Urban Fantasy is a sub-genre of fantasy that is in an urban setting.
Thank you, Wikipedia. And as someone who loves fantasy, I had to check it out. And wow, I enjoyed falling down that black hole.
It also lead to one of my all-time favourite series, the Kate Daniels series. So let's start off with Kate Daniels.
The Terrible Ones is an Amazon Associate which means I receive commission on purchases made with my referral link.
---
Kate Daniels by Ilona Andrews
---
The first book of the series is Magic Bites and while it's a great book, I do mention in my review that you shouldn't judge the whole series on the first book.
Magic Bites (Kate Daniels #1)
Atlanta would be a nice place to live, if it weren't for the magic…
When the magic is up, rogue mages cast their spells and monsters appear, while guns refuse to fire and cars fail to start. But then technology returns, and the magic recedes as unpredictably as it arose, leaving all kinds of paranormal problems in its wake.
Kate Daniels is a down-on-her-luck mercenary who makes her living cleaning up these magical problems. But when Kate's guardian is murdered, her quest for justice draws her into a power struggle between two strong factions within Atlanta's magic circles.
The Masters of the Dead, necromancers who can control vampires, and the Pack, a paramilitary clan of shapechangers, blame each other for a series of bizarre killings—and the death of Kate's guardian may be part of the same mystery. Pressured by both sides to find the killer, Kate realizes she's way out of her league—but she wouldn't have it any other way.
Kate Daniels also has some romance, which I actually really enjoy because it doesn't take over the series. The plot is amazing and the different mythologies always manage to blow my mind.
Want Magic Bites? Get it on Amazon.
---
Anita Blake, Vampire Hunter by Laurell K. Hamilton
---
My first ever urban fantasy read was Anita Blake, Vampire Hunter. This was also my introduction to erotica but that only comes much later in the series. I feel anyone who has read this series will agree when I say that everything changes after Obsidian Butterfly. The first 10 or so books are much more detective-y while after that is is more erotica.
I still love it though.
Guilty Pleasures (Anita Blake, Vampire Hunter #1)
Anita Blake is small, dark, and dangerous. Her turf is the city of St. Louis. Her job: re-animating the dead and killing the undead who take things too far. But when the city's most powerful vampire asks her to solve a series of vicious slayings, Anita must confront her greatest fear—her undeniable attraction to master vampire Jean-Claude, one of the creatures she is sworn to destroy…
Want to read Guilty Pleasures? Get it on Amazon.
---
The Dresden Files by Jim Butcher
---
The Dresden Files have been recommended to me SO MUCH and a while back, I actually started reading it. And damn.
Storm Front (Dresden Files #1)
HARRY DRESDEN — WIZARD
Lost Items Found. Paranormal Investigations. Consulting. Advice. Reasonable Rates. No Love Potions, Endless Purses, or Other Entertainment.
Harry Dresden is the best at what he does. Well, technically, he's the onlyat what he does. So when the Chicago P.D. has a case that transcends mortal creativity or capability, they come to him for answers. For the "everyday" world is actually full of strange and magical things—and most don't play well with humans. That's where Harry comes in. Takes a wizard to catch a—well, whatever. There's just one problem. Business, to put it mildly, stinks.
So when the police bring him in to consult on a grisly double murder committed with black magic, Harry's seeing dollar signs. But where there's black magic, there's a black mage behind it. And now that mage knows Harry's name. And that's when things start to get interesting.
Magic – it can get a guy killed.
Want to read Storm Front? Get it on Amazon.
---
Elemental Assassin by Jennifer Estep
---
This is another one of my firsts and it definitively deepened my love for urban fantasy. The story is unpredictable and I feel the world building is super imaginitave.
Spider's Bite (Elemental Assassin #1)
My name is Gin, and I kill people.
They call me the Spider. I'm the most feared assassin in the South — when I'm not busy at the Pork Pit cooking up the best barbecue in Ashland. As a Stone elemental, I can hear everything from the whispers of the gravel beneath my feet to the vibrations of the soaring Appalachian Mountains above me. My Ice magic also comes in handy for making the occasional knife. But I don't use my powers on the job unless I absolutely have to. Call it professional pride.
Now that a ruthless Air elemental has double-crossed me and killed my handler, I'm out for revenge. And I'll exterminate anyone who gets in my way — good or bad. I may look hot, but I'm still one of the bad guys. Which is why I'm in trouble, since irresistibly rugged Detective Donovan Caine has agreed to help me. The last thing this coldhearted killer needs when I'm battling a magic more powerful than my own is a sexy distraction… especially when Donovan wants me dead just as much as the enemy.
Want Spider's Bite? Get it on Amazon.
---
Fever by Karen Marie Moning
---
Fever definitely has a bit more romance at it's core BUT it is not afraid to let the bad shit happen. Mac deals with heavy stuff and her struggles and battles with the fae beings are all…crazy good. It was shocking, fast paced, and imaginative.
Darkfever (Fever #1)
"My name is MacKayla, Mac for short. I'm a sidhe-seer, one who sees the Fae, a fact I accepted only recently and very reluctantly.

My philosophy is pretty simple – any day nobody's trying to kill me is a good day in my book. I haven't had many good days lately. Not since the walls between Man and Fae came down. But then, there's not a sidhe-seer alive who's had a good day since then."
When MacKayla's sister was murdered, she left a single clue to her death, a cryptic message on Mac's cell phone. Journeying to Ireland in search of answers, Mac is soon faced with an even greater challenge: staying alive long enough to master a power she had no idea she possessed – a gift that allows her to see beyond the world of man, into the dangerous realm of the Fae.
As Mac delves deeper into the mystery of her sister's death, her every move is shadowed by the dark, mysterious Jericho…while at the same time, the ruthless V'lane – an alpha Fae who makes sex an addiction for human women – closes in on her. As the boundary between worlds begins to crumble, Mac's true mission becomes clear: to find the elusive Sinsar Dubh before someone else claims the all-powerful Dark Book – because whoever gets to it first holds nothing less than complete control both worlds in their hands.
Want Darkfever? Get it on Amazon.
---
Mercy Thompson by Patricia Briggs
---
Mercy Thompson is one I would read if you loved Kate Daniels. The characters are awesome and I love that Mercy isn't your typical shifter. She's a walker and it makes her one of a kind.
Moon Called (Mercy Thompson #1)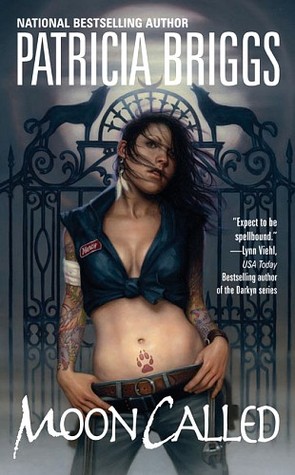 Mercedes Thompson, aka Mercy, is a talented Volkswagen mechanic living in the Tri-Cities area of Washington. She also happens to be a walker, a magical being with the power to shift into a coyote at will. Mercy's next-door neighbor is a werewolf. Her former boss is a gremlin. And she's fixing a bus for a vampire. This is the world of Mercy Thompson, one that looks a lot like ours but is populated by those things that go bump in the night. And Mercy's connection to those things is about to get her into some serious hot water…
Want Moon Called? Get it on Amazon.
---
The Others by Anne Bishop
---
The Others is a PHENOMENAL series. It has something so… other about that just makes it. so. damn. good.
Written in Red (The Others #1)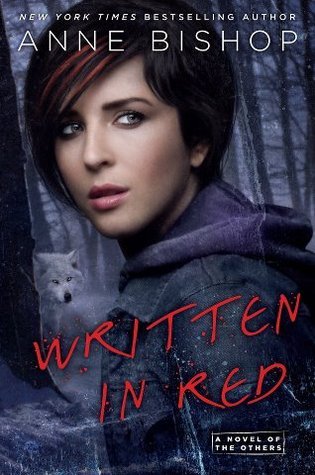 As a cassandra sangue, or blood prophet, Meg Corbyn can see the future when her skin is cut—a gift that feels more like a curse. Meg's Controller keeps her enslaved so he can have full access to her visions. But when she escapes, the only safe place Meg can hide is at the Lakeside Courtyard—a business district operated by the Others.
Shape-shifter Simon Wolfgard is reluctant to hire the stranger who inquires about the Human Liaison job. First, he senses she's keeping a secret, and second, she doesn't smell like human prey. Yet a stronger instinct propels him to give Meg the job. And when he learns the truth about Meg and that she's wanted by the government, he'll have to decide if she's worth the fight between humans and the Others that will surely follow.
Want Written in Red? Get it on Amazon.
---
(Jane Yellowrock #1) by Faith Hunter
---
Jane Yellowrock was the only thing that always managed to get me out of my Kate Daniels reading slumps. I haven't read it all and yet, something about this series gives me chills. I feel like there is SO MUCH to every word spoken.
Skinwalker (Jane Yellowrock #1)
Jane Yellowrock is a supernatural skinwalker–one sharing her body with the soul of a mountain lion. When the rogue-vampire hunter is hired to hunt down a particularly nasty vamp, Jane is drawn into the steamy New Orleans vampire society where she learns the ins-and-outs of the "sane" vampire culture, more about her own Cherokee heritage, and we are drawn into a rousing, fast-paced thriller.
Want Skinwalker? Get it on Amazon
---
Guild Hunter by Nalini Singh
---
Nalini Singh is the author of the Psy-Changeling series, a super imaginative paranormal romance series that I loved! Guild Hunter also has a bit of le romance, but what I have read is just as crazy imaginative as her other world.
Angels' Blood (Guild Hunter #1)
Nalini Singh introduces readers to a world of beauty and bloodlust, where angels hold sway over vampires.
Vampire hunter Elena Deveraux is hired by the dangerously beautiful Archangel Raphael. But this time, it's not a wayward vamp she has to track. It's an archangel gone bad.
The job will put Elena in the midst of a killing spree like no other—and pull her to the razor's edge of passion. Even if the hunt doesn't destroy her, succumbing to Raphael's seductive touch just may. For when archangels play, mortals break.
Want Angels' Blood? Get it on Amazon.
---