March has a whopping 79 new YA releases, according to Goodreads. That is a lot to read, and very little time. So here is a list of 25 most anticipated YA releases for March.
Sherwood by Meagan Spooner
---
Robin of Locksley is dead.
Maid Marian doesn't know how she'll go on, but the people of Locksley town, persecuted by the Sheriff of Nottingham, need a protector. And the dreadful Guy of Gisborne, the Sheriff's right hand, wishes to step into Robin's shoes as Lord of Locksley andMarian's fiancé.
Who is there to stop them?
Marian never meant to tread in Robin's footsteps—never intended to stand as a beacon of hope to those awaiting his triumphant return. But with a sweep of his green cloak and the flash of her sword, Marian makes the choice to become her own hero: Robin Hood.
Release Date: 19 March 2019
Once & Future (Once & Future) by Amy Rose Capetta
---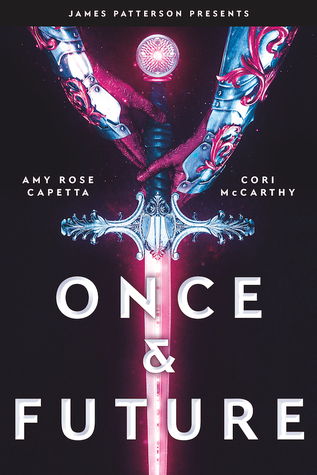 I've been chased my whole life. As a fugitive refugee in the territory controlled by the tyrannical Mercer corporation, I've always had to hide who I am. Until I found Excalibur.

Now I'm done hiding.

My name is Ari Helix. I have a magic sword, a cranky wizard, and a revolution to start.
When Ari crash-lands on Old Earth and pulls a magic sword from its ancient resting place, she is revealed to be the newest reincarnation of King Arthur. Then she meets Merlin, who has aged backward over the centuries into a teenager, and together they must break the curse that keeps Arthur coming back. Their quest? Defeat the cruel, oppressive government and bring peace and equality to all humankind.
No pressure.
Release Date: 26 March 2019
Bloodleaf (Bloodleaf #1) by Crystal Smith
---
Perfect for fans of RED QUEEN and UPROOTED, Crystal Smith's debut novel, BLOODLEAF, is an imaginative retelling of the Grimm Fairy tale "The Goose Girl" that takes a ghostly mystery and sets it inside an epic fantasy world.
Princess Aurelia is a prisoner to her crown and the heir that nobody wants. Surrounded by spirits and banned from using her blood-magic, Aurelia flees her country after a devastating assassination attempt. To escape her fate, Aurelia disguises herself as a commoner in a new land and discovers a happiness her crown has never allowed. As she forges new bonds and perfects her magic, she begins to fall for a man who is forbidden to rule beside her. But the ghosts that haunt Aurelia refuse to abandon her, and she finds herself succumbing to their call as they expose a nefarious plot that only she can defeat. Will she be forced to choose between the weight of the crown and the freedom of her new life?
Release Date: 12 March 2019
The Everlasting Rose (The Belles #2) by Dhonielle Clayton
---
In this sequel to the instant New York Times bestseller, Camille, her sister Edel, and her guard and new love Remy must race against time to find Princess Charlotte. Sophia's Imperial forces will stop at nothing to keep the rebels from returning Charlotte to the castle and her rightful place as queen. With the help of an underground resistance movement called The Iron Ladies-a society that rejects beauty treatments entirely-and the backing of alternative newspaper The Spider's Web, Camille uses her powers, her connections and her cunning to outwit her greatest nemesis, Sophia, and restore peace to Orleans.
Release Date: 5 March 2019
To Best the Boys by Mary Weber
---
Every year for the past fifty-four years, the residents of Pinsbury Port receive a mysterious letter inviting all eligible-aged boys to compete for an esteemed scholarship to the all-male Stemwick University. Every year, the poorer residents look to see that their names are on the list. The wealthier look to see how likely their sons are to survive. And Rhen Tellur opens it to see if she can derive which substances the ink and parchment are created from, using her father's microscope.
In the province of Caldon, where women are trained in wifely duties and men are encouraged into collegiate education, sixteen-year-old Rhen Tellur wants nothing more than to become a scientist. As the poor of her seaside town fall prey to a deadly disease, she and her father work desperately to find a cure. But when her Mum succumbs to it as well? Rhen decides to take the future into her own hands—through the annual all-male scholarship competition.
With her cousin, Seleni, by her side, the girls don disguises and enter Mr. Holm's labyrinth, to best the boys and claim the scholarship prize. Except not everyone's ready for a girl who doesn't know her place. And not everyone survives the maze.
Release Date: 19 March 2019
The Queen's Resistance (The Queen's Rising #2) by Rebecca Ross
---
The highly anticipated sequel to The Queen's Rising!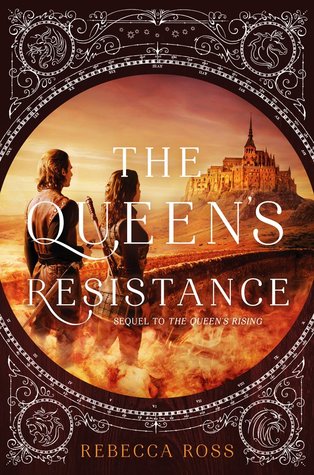 Finally, Brienna is a mistress of knowledge and is settling into her role as the daughter of Davin MacQuinn, a disgraced lord who returned to Maevana to reclaim his house. Though she'd just survived a revolution, one that will finally return a queen to the throne, she faces another difficult challenge. She must prove herself trustworthy to the MacQuinns. But as Queen Isolde Kavanagh's closest confidant, she'll have to balance serving her father's house as well as her country. And then there's Cartier, a wholly separate but desirable factor in her new life.
Aodhan Morgane, formerly known as Cartier Évariste, is adjusting to the stark contrast between his pre-rebellion life in Valenia as a master of knowledge and his current one as the lord of a fallen house. During his castle's restoration, he discovers a ten-year-old boy named Tomas, whose past and parentage are a complete mystery. So when Cartier's former pupil Brienna is as taken with Tomas as he is, he lets his mind wander—what if he doesn't have to raise him or his house alone?
As the Lannon trial rapidly approaches, Brienna and Cartier must put their feelings aside to concentrate on forging alliances, executing justice, and ensuring that no one interferes with the queen's coronation. But resistance is rumbling among the old regime's supporters, who are desperate to find a weakness in the rebels' forces. And nothing makes a person more vulnerable than deep-seated love.
Release Date: 5 March 2019
From Breath and Ruin (Elements of Five #1) by Carrie Ann Ryan
---
In her YA debut, New York Times bestselling author Carrie Ann Ryan dives into a world with magic and sacrifice with the Elements of Five.
Five hundred years ago, the Maison Realm was shattered, divided into warring kingdoms of elemental Wielders with fate and truth shadowed and uncertain. Now, factions of both the light and dark venture into the human realm in search of the prophesied Spirit Priestess who is said to Wield the Elements of Five and bring the two fractured kingdoms together.
Lyric has no idea that there's a realm outside the human one she lives in. When fate and circumstances are pulled from her hands after an accident, and she finds out that nothing is as it seems.
There is a war surrounding her and when Lyric realizes that they are searching for her, she must rely on those she once trusted: a boy who isn't who she thought, and a new realm of warriors who have come to protect her as she trains.
For the darkness is coming, and the Queen of Obscurite wants to ensure that the King of Lumiere can't get his hands on Lyric. And the only way to ensure that is if Lyric herself is no more … no matter the cost to prophecy.
Release Date: 19 March 2019
Girls with Sharp Sticks by Suzanne Young
---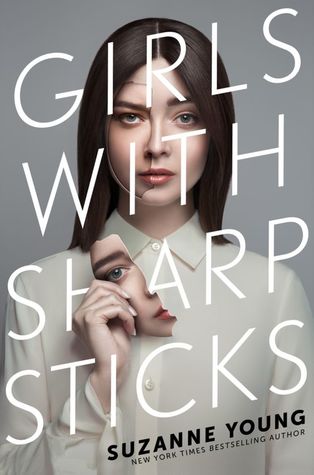 The Girls of Innovations Academy are beautiful and well-behaved—it says so on their report cards. Under the watchful gaze of their Guardians, the all-girl boarding school offers an array of studies and activities, from "Growing a Beautiful and Prosperous Garden" to "Art Appreciation" and "Interior Design." The girls learn to be the best society has to offer. Absent is the difficult math coursework, or the unnecessary sciences or current events. They are obedient young ladies, free from arrogance or defiance. Until Mena starts to realize that their carefully controlled existence may not be quite as it appears.
As Mena and her friends begin to uncover the dark secrets of what's actually happening there—and who they really are—the girls of Innovations will find out what they are truly capable of. Because some of the prettiest flowers have the sharpest thorns.
Release Date: 19 March 2019
Internment by Samira Ahmed
---
Rebellions are built on hope.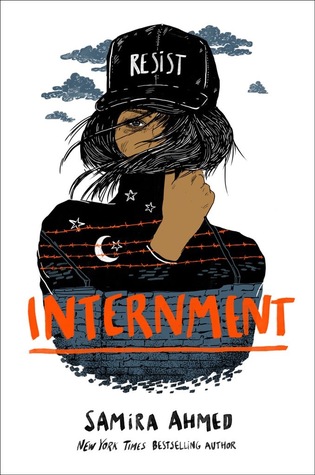 Set in a horrifying near-future United States, seventeen-year-old Layla Amin and her parents are forced into an internment camp for Muslim American citizens.
With the help of newly made friends also trapped within the internment camp, her boyfriend on the outside, and an unexpected alliance, Layla begins a journey to fight for freedom, leading a revolution against the internment camp's Director and his guards.
Heart-racing and emotional, Internment challenges readers to fight complicit silence that exists in our society today.
Release date: 19 March 2019
The Shadow Glass (The Bone Witch #3) by Rin Chupeco
---
In the highly anticipated finale to the Bone Witch trilogy, Tea's life—and the fate of the kingdoms—hangs in the balance
Tea is a bone witch with the dark magic needed to raise the dead. She has used this magic to breathe life into those she has loved and lost…and those who would join her army against the deceitful royals. But Tea's quest to conjure a shadowglass—to achieve immortality for the one person she loves most in the world—threatens to consume her heart.
Tea's black heartsglass only grows darker with each new betrayal. And when she is left with new blood on her hands, Tea must answer to a power greater than the elder asha or even her conscience…
Release date: 5 March 2019
The Fever King (Feverwake #1) by Victoria Lee
---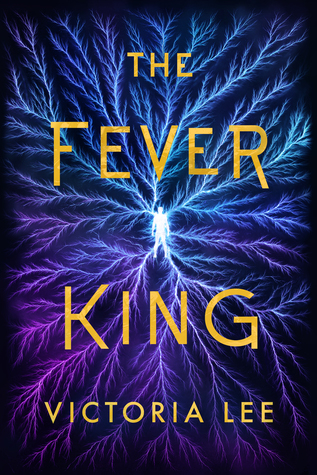 In the former United States, sixteen-year-old Noam Álvaro wakes up in a hospital bed, the sole survivor of the viral magic that killed his family and made him a technopath. His ability to control technology attracts the attention of the minister of defense and thrusts him into the magical elite of the nation of Carolinia.
The son of undocumented immigrants, Noam has spent his life fighting for the rights of refugees fleeing magical outbreaks—refugees Carolinia routinely deports with vicious efficiency. Sensing a way to make change, Noam accepts the minister's offer to teach him the science behind his magic, secretly planning to use it against the government. But then he meets the minister's son—cruel, dangerous, and achingly beautiful—and the way forward becomes less clear.
Caught between his purpose and his heart, Noam must decide who he can trust and how far he's willing to go in pursuit of the greater good.
Release date: 1 March 2019
Heroine by Mindy McGinnis
---
An Amazon Best Book of the Month! A captivating and powerful exploration of the opioid crisis—the deadliest drug epidemic in American history—through the eyes of a college-bound softball star. Edgar Award-winning author Mindy McGinnis delivers a visceral and necessary novel about addiction, family, friendship, and hope.
When a car crash sidelines Mickey just before softball season, she has to find a way to hold on to her spot as the catcher for a team expected to make a historic tournament run. Behind the plate is the only place she's ever felt comfortable, and the painkillers she's been prescribed can help her get there.
The pills do more than take away pain; they make her feel good.
With a new circle of friends—fellow injured athletes, others with just time to kill—Mickey finds peaceful acceptance, and people with whom words come easily, even if it is just the pills loosening her tongue.
But as the pressure to be Mickey Catalan heightens, her need increases, and it becomes less about pain and more about want, something that could send her spiraling out of control.
Release date: 12 March 2019
A Questions of Holmes (Charlotte Holmes #4) by Brittany Cavallaro
---
The fourth book in the New York Times bestselling Charlotte Holmes series!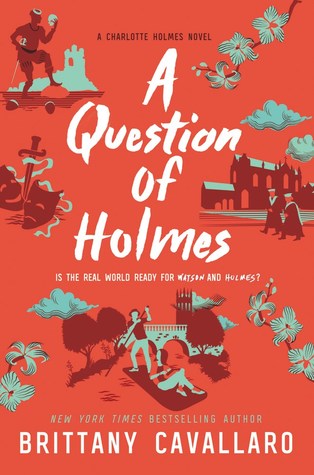 Charlotte Holmes and Jamie Watson think they're finally in the clear. They've left Sherringford School—and the Moriartys—behind for a pre-college summer program at Oxford University. A chance to start from scratch and explore dating for the first time, while exploring a new city with all the freedom their program provides. But when they arrive, Charlotte is immediately drawn into a new case: a series of accidents have been befalling the members of the community theater troupe in Oxford, and now, on the eve of their production of Hamlet, they're starting all over again. What once seemed like a comedy of errors is now a race to prevent the next tragedy—before Charlotte or Jamie is the next victim.
Release date: 5 March 2019
Killing Novermber by Adriana Mather
---
It's a school completely off the grid, hidden by dense forest and surrounded by traps. There's no electricity, no internet, and an eye-for-an-eye punishment system. Classes include everything from Knife-Throwing and Poisons to the Art of Deception and Historical Analysis. And all of the students are children of the world's most elite strategists—training to become assassins, counselors, spies, and master impersonators. Into this world walks November Adley, who quickly discovers that friends are few in a school where personal revelations are discouraged and competition is everything. When another student is murdered, all eyes turn to November, who must figure out exactly how she fits into the school's bizarre strategy games before she is found guilty of the crime…or becomes the killer's next victim.
Release date: 26 March 2019
When the Sky Fell on Splendor by Emily Henry
---
Almost everyone in the small town of Splendor, Ohio, was affected when the local steel mill exploded. If you weren't a casualty of the accident yourself, chances are a loved one was. That's the case for seventeen-year-old Franny, who, five years after the explosion, still has to stand by and do nothing as her brother lies in a coma.
In the wake of the tragedy, Franny found solace in a group of friends whose experiences mirrored her own. The group calls themselves The Ordinary, and they spend their free time investigating local ghost stories and legends, filming their exploits for their small following of YouTube fans. It's silly, it's fun, and it keeps them from dwelling on the sadness that surrounds them.
Until one evening, when the strange and dangerous thing they film isn't fiction–it's a bright light, something massive hurdling toward them from the sky. And when it crashes and the teens go to investigate…everything changes.
Release date: 12 March 2019
Small Town Hearts by Lillie Vale
---
Rule #1 – Never fall for a summer boy.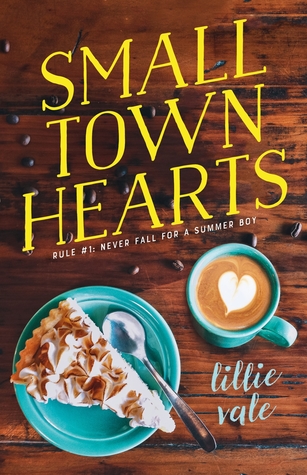 Fresh out of high school, Babe Vogel should be thrilled to have the whole summer at her fingertips. She loves living in her lighthouse home in the sleepy Maine beach town of Oar's Rest and being a barista at the Busy Bean, but she's totally freaking out about how her life will change when her two best friends go to college in the fall. And when a reckless kiss causes all three of them to break up, she may lose them a lot sooner. On top of that, her ex-girlfriend is back in town, bringing with her a slew of memories, both good and bad.
And then there's Levi Keller, the cute artist who's spending all his free time at the coffee shop where she works. Levi's from out of town, and even though Babe knows better than to fall for a tourist who will leave when summer ends, she can't stop herself from wanting to know him. Can Babe keep her distance, or will she break the one rule she's always had – to never fall for a summer boy?
Release date: 19 March 2019
---
Any new releases you can't wait for? Leave 'em down in the comments!