Queen of Shadows (Throne of Glass #4)
5 out of 5 stars
The queen has returned.
Queen of Shadows by Sarah J. Maas – Everyone Celaena Sardothien loves has been taken from her. But she's at last returned to the empire—for vengeance, to rescue her once-glorious kingdom, and to confront the shadows of her past…
She has embraced her identity as Aelin Galathynius, Queen of Terrasen. But before she can reclaim her throne, she must fight.
She will fight for her cousin, a warrior prepared to die for her. She will fight for her friend, a young man trapped in an unspeakable prison. And she will fight for her people, enslaved to a brutal king and awaiting their lost queen's triumphant return.
YES!! THIS IS WHAT I HAVE BEEN WAITING FOR!
Queen of Shadows has made me one happy reader. Except for, you know, the bad stuff with Dorian. *Cough* But let's forget about that for a second.
Queen of Shadows was EPIC! From page 1, I was a bundle of nerves and suspense and anxiety. I was sweating and my foot was constantly tapping. I was a mess and I LOVED it.
In Queen of Shadow, Aelin is taking her role as queen seriously and she's being the smart and sneaky b*tch we all know and love. Her plans are crazy smart and, much like all the other characters, it left me reeling and reacting something like this: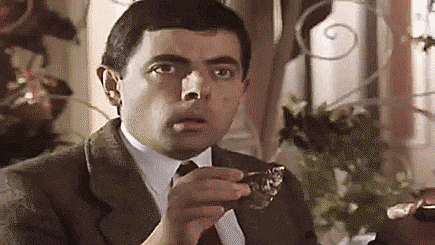 You would think I'm overreacting but I AM NOT! The plots and schemes were mind blowing.
The girl power in Queen of Shadows also blew me away! We get to meet Nesryn and Lysandra and a couple of other badass b*tches. Every time they did something crazy cool (which was a lot) I was left a drooling mess.
All I could think was, "Can I please join the squad?"
Aedion also joins in on this one and I have to say, I honestly love him so much. His love for his people and Aelin… och, it makes me wanna cry. Their interactions were so touching. I had the sniffles for a little bit if I am being honest. Their fear of judgment from one another was just heartbreaking.
I kind of wanted to throttle Choal most of the time but I am holding onto my hope that he will redeem himself.
Dorian, who is now infested by a valg prince (those bastards), made me want to scream. Dorian is our favourite cinnamon roll and the pain he has to endure was just awful.
Last, but not least – Rowan and Aelin.
Oh My. Oh my, oh my, oh my. All I am going to say to that is this:
I guess there is only one warning I would give any reader of Queen of Shadows: Every thing is not as is seems.
Queen of Shadows is filled with crazy action, scheming and plots, a group of badass females and males, and just the right amount of romance.
Here's some stuffies to occupy your mind. Spoiler alert: Aelin and Manon meet and IT IS FREAKING AMAZING!
HEHE! This is so true!
If you want Queen of Shadows, you can find it here on Amazon.
The Terrible Ones is an Amazon Associate which means I receive commission on purchases made with my referral link.
Other Throne of Glass reviews
The Assassin's Blade (Throne of Glass #0.5)
Throne of Glass (Throne of Glass #1)
Crown of Midnight (Throne of Glass #2)
Heir of Fire (Throne of Glass #3)